This research project has been completed. Please contact a team member for further information.
Disability and care needs in the older population
Background
Care services are available through Local Authorities and cash disability benefits are provided by the national social security system. Individuals may be entitled to one, both or neither source of help. Each element of the system operates its own assessments of an older person's care needs, and they differ in how account is taken of whether the person has a partner.
People who receive care via a Local Authority pay means-tested charges for their care, except in Scotland where there is a non means-tested public subsidy towards the cost of care. Other than an element paid via the means-tested Pension Credit, entitlement to disability benefits is not affected by an older person's income or financial assets.
Care provided via Local Authorities is in the form of services or a 'personal budget' which has to be spent in ways which address the recipient's care needs. Recipients of disability benefits are free to spend them as they wish. These differences mean that, irrespective of their financial value, the support from the two separate parts of the system may alleviate the adverse effects of disability on wellbeing in different ways and to different extents.
Some have suggested that public funds channelled through disability benefits should be redirected to the care system, but widespread debate on the funding of care and support for older people continues.
Project aims
The research project aims to provide robust, independent empirical evidence to sharpen policy judgements on reform of care services and disability benefits for older disabled people.
Using advanced statistical methods, the research team's objectives are to:
understand the impacts of public support including the effect of disability on wellbeing; whether care services and disability benefits have a significant alleviating effect; the effects of cash benefits compared with care services
assess the responsiveness of public support to changes in older people's care needs including examining the existence and consequences of any delays between the onset or increase in severity of disability and the receipt of benefit or services
provide evidence on the likely impacts of potential policy reforms; seeing if there is a strong case for a change in the balance of cash benefits and care services within the system of support for older disabled people in terms of improvements in their wellbeing and in use of public resources
assess the role of different configurations of disability within the households of older people; looking at couples where one or both have a disability and how that relates to the receipt of benefits/care services
The team expects to make a significant contribution to the body of objective and independent evidence on the likely impacts of reform of care services and disability benefits for older disabled people. Ultimately they expect this to improve the public debate and sharpen policy judgments in this area.
Methods
By making use of advanced methods which are innovative in this field, and exploiting opportunities provided by new data on receipt of and payment for care services that are being collected for the first time in two of these surveys, the team expects to establish:
the extent to which the well-being of an older person is affected by the disability of his/her partner or other members of the household, and the likely consequences for their wellbeing of taking account of a partner's disability in determining entitlement to publicly-funded care services and disability benefits
whether equivalent-value care services and disability benefits mitigate the impact of disability on wellbeing to the same or differing extents
the responsiveness of the current systems of care and disability benefits to changes in older people's needs for care and whether any delays in the system affect their wellbeing
the likely effect on the wellbeing of different groups of disabled older people of potential changes in the balance of public funding for care services and disability benefits
Team members
Professor Ruth Hancock
Professor-Economics of Health & Welfare - University of East Anglia
Professor Hancock specialises in the economic, health and social policy implications of individual and population ageing with a particular focus on financial provision for later life and provision for long-term care needs. She leads the project and maintain links with policy users of the research.
---
Professor Stephen Pudney
Professor of Economics (retired) - ISER - University of Essex
Professor Pudney is a leading expert on poverty and the welfare benefit system, health and disability and the measurement of wellbeing. He is responsible for the design and choice of statistical approaches used in the research and for the design and delivery of the project's impact strategy.
---
Dr Marcello Morciano
Research Fellow - University of East Anglia
Dr Morciano's research focuses on the economics of disability, health and public economics of ageing and applied health micro-econometrics. He plays a role in data preparation and in conducting statistical analysis and simulations.
---
Research Fellow and Deputy Director of Graduate Studies - ISER - University of Essex
Dr Booker undertakes data preparation and statistical analysis, contributing particularly to the construction of health and wellbeing indicators. She brings a valuable public health and epidemiology perspective to the study.
---
Publications
Birth-cohort trends in older-age functional disability and their relationship with socio-economic status: evidence from a pooling of repeated cross-sectional population-based studies for the UK
Marcello Morciano, Ruth Hancock, Stephen Pudney,
Journal Article
Assessing the distributional impact of reforms to disability benefits for older people in the UK: implications of alternative measures of income and disability costs
Ruth Hancock, Stephen Pudney,
Journal Article
Disability costs and equivalence scales in the older population in Great Britain
Marcello Morciano, Ruth Hancock, Stephen Pudney,
Journal Article
Nonparametric estimation of a compensating variation: the cost of disability
Ruth Hancock, Marcello Morciano, Stephen Pudney,
ISER Working Paper Series
Do household surveys give a coherent view of disability benefit targeting? A multi-survey latent variable analysis for the older population in Great Britain
Ruth Hancock, Marcello Morciano, Stephen Pudney, Francesca Zantomio,
ISER Working Paper Series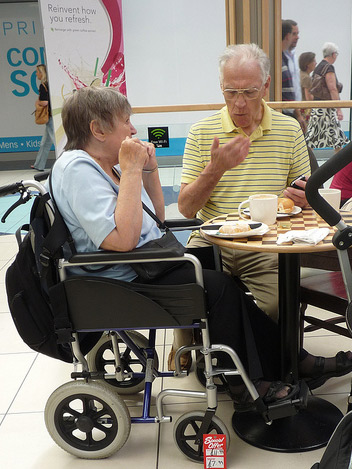 Start date
30 Sep 2012
End date
30 Oct 2014
Funder
Economic and Social Research Council
Data sources
Family Resources Survey (FRS)
English Longitudinal Study of Aging (ELSA)
Health and Social Care Survey for England (HSE)