As over 8 million school children in England begin their 15 day Easter break, a new study has revealed this is likely to be their saddest point in the year, despite an abundance of chocolate eggs.
The study, published by the Institute for Social and Economic Research at the University of Essex, followed the lives of over 6,000 individual children aged 10-15 for five years and measured their life satisfaction against a range of factors, including family income, gender, age and ethnicity. The research found children were happiest overall during term time. The lowest points for life satisfaction are during school holidays but the Easter break was significantly the worst.
Could it be the pressure of exams and tests after the Easter break make this is a difficult time for children and young people struggling to cope with the increasing academic stress or are the Easter holidays too long a time to be apart from their friendship groups and school routines?
Dr Gundi Knies, Research Fellow at the University of Essex, said: "Holidays are an integral feature of modern life in developed countries and it is surprising that children are, on average, unhappier during the holidays than during school term. Holidays are typically viewed as an important vehicle to maintaining a high quality of life but this may depend on whether you are sitting in the driver's seat or not. Many activities children would engage in during term time stop during the holidays and friends may not be around."
Dr Knies' research followed over 6,000 young people participating in Understanding Society, the UK Household Longitudinal Study between 2009 and 2014.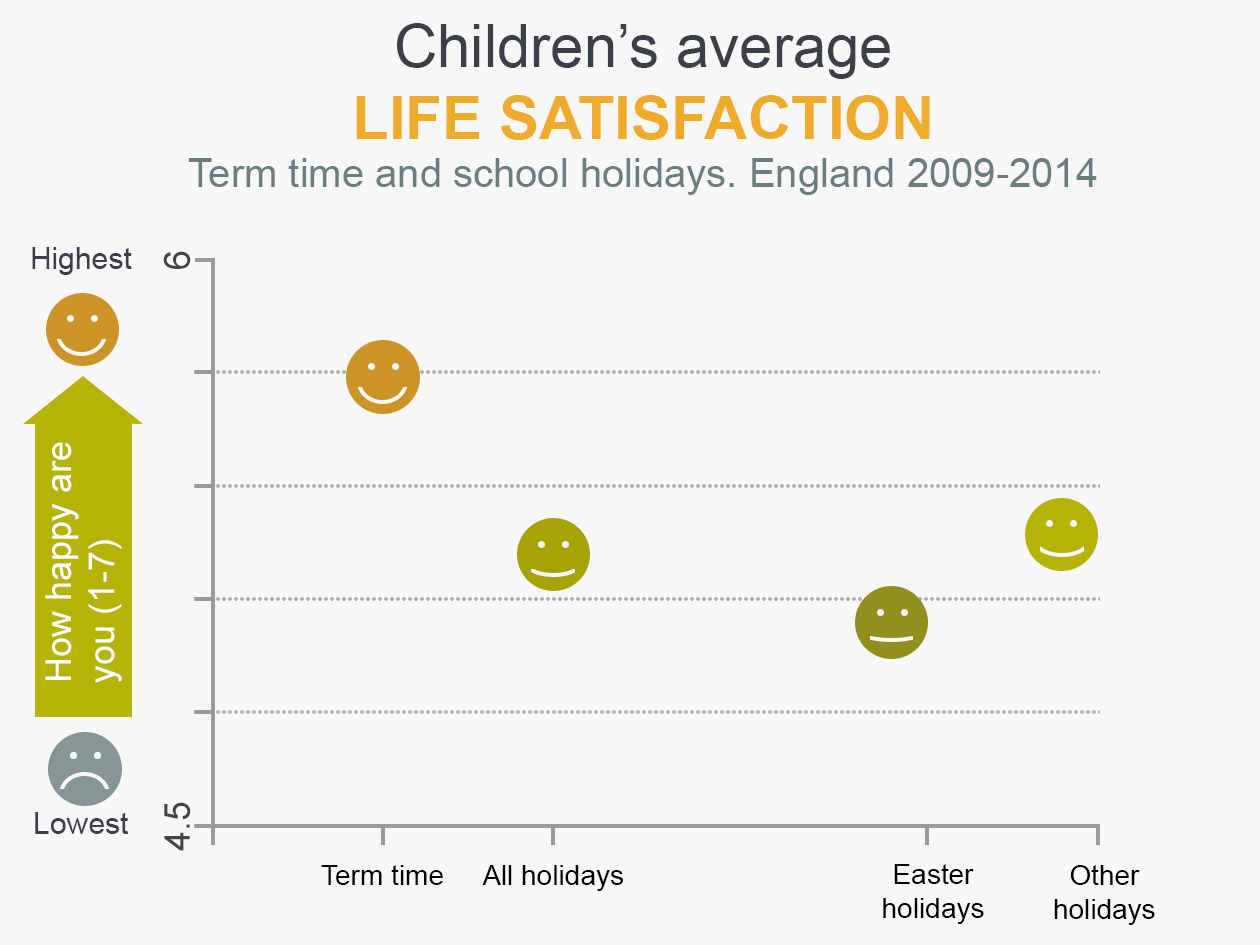 Related research: Knies, Gundi (2017): Income effects on children's life satisfaction: Longitudinal Evidence for England
Media enquiries: Louise Cullen 0777 17 92393
Our on-campus University of Essex Globelynx television studio connects news rooms to our top academic experts. Globelynx – which is part of the Press Association – is used by broadcasters around the world to facilitate reliable, top-quality, live, expert interviews. If you'd like to interview Dr Gundi Knies via our studio, make your booking online or speak to the Globelynx team, telephone: +44 (0)20 7963 7060 or email: mail@globelynx.com
|   | LCI | Mean | UCI |
| --- | --- | --- | --- |
| Term time | 5.87 | 5.90 | 5.92 |
| Holidays | 5.78 | 5.82 | 5.86 |
| Easter holidays | 5.71 | 5.79 | 5.88 |
| Other holidays | 5.78 | 5.83 | 5.87 |
Source: Understanding Society (2015), Wave 1-5, England only.