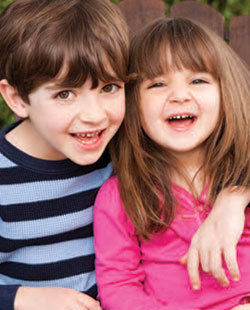 Early findings from Understanding Society show that sibling relationships could be key in improving children's levels of happiness.
Two pieces of research by academics at ISER and the University of Warwick have shown that the fewer siblings children have, the happier they are – and that only children are the most contented. The findings also suggest that "sibling bullying" could be part of the problem, with 31% of children saying they are hit, kicked or pushed by a brother or sister "quite a lot" or "a lot".
The figures are some of the first to emerge from Understanding Society, a study tracking the lives of 100,000 people in 40,000 British households and were published recently in Britain in 2011, the State of the Nation, a magazine published by the Economic and Social Research Council, which funds the study.
On children and happiness, the research finds that:
Seven out of 10 British teenagers are "very satisfied" with their lives.
Children from ethnic minorities are on average happier than their white British counterparts.
Happiness declines the more siblings there are in a household.
The findings on children and happiness are based on in-depth questionnaires completed by 2,500 young people, which have been analysed by Gundi Knies from ISER, where the study is based. Separate research using the same data was undertaken looking at sibling bullying: 29.5% of teenagers complain of being called "nasty names" by brothers or sisters "quite a lot" or "a lot", while 17.6% say they have their belongings taken away from them.
Dieter Wolke of the University of Warwick, who, together with Alexandra Skew at ISER, carried out the work on tensions between brothers and sisters, said:
"More than half of all siblings (54%) were involved in bullying in one form or the other."
Although there is also evidence that points to siblings providing support for each other, he warned that children who faced bullying both at home and in the playground were particularly vulnerable to behaviour problems and unhappiness. The research did not study the impact of such tensions on parents, but he added:
"From anecdotal reports, quarrelling siblings increase stress for parents and some just give up intervening or intervene inconsistently, leaving the field wide open for the bully sibling."
Understanding Society makes other interesting observations too – that children's happiness is greater when there are fewer other children in the household, and that sibling bullying was far more prevalent than bullying at school. The researchers note:
"By middle childhood, children spend as much if not more time interacting with siblings than with parents, and in many families aggression between siblings is frequent and a source of great concern to parents."
Writing in the ESRC's Britain in 2011 publication, former Daily Telegraph political and social affairs correspondent Sarah Womack, said:
"Most state action has so far been aimed at reducing child poverty, a policy predicated on the very natural assumption that if families are richer, the children in them will be happier. The Labour government calculated child poverty by household income but also suggested that 'not being able to afford things that most people consider necessary', like holidays, was a useful measure."
But she commented that the early research using Understanding Society "detected no association between the new poverty measures and life satisfacton, suggesting that few if any items included in Labour's list of what is imortant to children – holidays, having a bedroom to oneself by the age of ten, friends round for tea – make a real difference to children's lives."
Early data from the survey will be available to researchers in December and further early findings will be published in 2011.