Overview
We are pleased to announce the first conference of the European Social Science Genomics Network (ESSGN) to take place in Bologna, Italy, on 19 and 20 May 2022, with an introductory training session on Wednesday 18 May.
We are delighted to announce our keynote speakers will be Professor Melinda Mills (University of Oxford) and Dr Adam Rutherford, author and broadcaster.
The conference starts on the morning of Thursday, 19 May and ends on Friday 20 May early evening. On Wednesday 18 May we have organised a pre-conference afternoon course on epigenetics and DNA methylation specifically targeted to early career researchers taught by Prof. Leo Schalkwyk and Prof. Meena Kumari.
The conference is funded by the ESRC Research Centre for Micro-Social Change (MiSoC) and the European Research Council (GENPOP).
This conference aims to improve our understanding of how genetic endowments and childhood circumstances may shape life choices and health and socio-economic outcomes across the life-course. The conference will foster the discussion of how public policy and private interventions could help each child achieve their potential and level the playing field.
Pre-conference training
Wednesday 18th May
Pre-conference training Introduction to Epigenetics: DNA methylation (University of Essex)
| | |
| --- | --- |
| 14.00-15.00 | Leo Schalkwyk: What is DNA methylation and what can it tell us? |
| 15.00-15.45 | Meena Kumari: DNA methylation / Social science data sets: introduction to Understanding Society |
| 15.45-16.30 | Coffee Break |
| 16.30-17.30 | Olivia Grant: What research using DNA methylation looks like. |
Programme
Thursday 19th May
Conference day 1
9:30-11:00

Coffee break/ Registration

11:00-12:30

Parallel session I




Aula 4 Chair: Nicola Barban

Giorgia Menta (Luxembourg Institute of Socio-Economic Research)
"Depression and Early-Retirement Age: Causal Evidence from a Gene-Environment Setup"

Perline Demange (Vrije Universiteit Amsterdam)
"Testing the causal effect of educational attainment on mental health using a within-sibling design and Mendelian Randomization."

Amanda Hughes (University of Bristol)
"The causal effects of body mass index (BMI) on childhood symptoms of depression, anxiety disorder, and attention-deficit hyperactivity disorder: a within family Mendelian randomization study"

Aula 12 Chair: Pietro Biroli

Andrea Allegrini (University College London)
"A multi-method approach to uncover the contribution of cognitive and noncognitive skills to academic achievement throughout the school years"

Paul Hufe (University of Bristol)
"Genetic Endowments, Educational Outcomes and the Mediating Influence of School Investments"

Titus Galama (University of Southern California and VU University Amsterdam)
"To what extent do genetic factors explain the education-health gradient?"

12:30-14:00

Lunch/ Poster Session I




Alex Mas-Sandoval (University of Bologna)
"Ancestry-related assortative mating and sex bias driven by social stratification in admixing American populations"

Alexander McQuoid (United States Naval Academy)
"Andrew's Syndrome: The Impact of Height on Earnings"

Anna Fürtjes (King's College London)
"General dimensions of human brain morphometry inferred from genome-wide association data"

Daniel Graeber (DIW Berlin)
"Intergenerational Health Mobility in Germany"

Kieran Lyon (University of York)
"How Genetics can Improve Interventions for Child Cognitive Development"

Kirsty Wilding (University of York)
"Using DNA to predict Educational Success: A meta-analysis"

Tilbe Atav (Erasmus University Rotterdam)
"Genes and heritability in intergenerational inequality"

14:00-15:30

Parallel Session II




Aula 4 Chair: Fleur Meddens

Hyeokmoon Kweon (Vrije Universiteit Amsterdam)
"Large-scale genome-wide study of income highlights heterogenous pleiotropy across the genome"

Robbee Wedow (Broad Institute of MIT and Harvard, and Harvard Department of Sociology)
"Patterns of item nonresponse behavior to survey questionnaires are systematic and have a genetic basis"

Aysu Okbay (Vrije Universiteit Amsterdam)
"Polygenic prediction of educational attainment within and between families from genome-wide association analyses in 3 million individuals"

Aula 12 Chair: Stephanie von Hinke

Viola Hilbert (DIW Berlin)
"Inequality of opportunity in wealth – Measurement from Germany"

Rita Dias Pererira (Erasmus University Rotterdam)
"Genetic advantage and equality of opportunity in education: Two definitions and an empirical application"

Amanda Hughes (University of Bristol)
"Testosterone and socioeconomic position: Mendelian randomization in 306,248 men and women in UK Biobank"

15:30-16:00

Coffee break

16:00-17:30

Parallel Session III




Aula 4 Chair: Rita Dias Pererira

Gabriella Conti (University College London)
"Genes, Parental Education, and Inequalities in Human Capital: Evidence from two British Cohorts"

Leandro Carvalho (University of Southern California)
"Genetics, Economic Choices, and Socioeconomic Status"

Eleanor Sanderson (University of Bristol)
"Identifying the marginal effects of specific educational decisions through genetic instrumental variables

Aula 12 Chair: Felix Tropf

Sebastian Daza (University of Wisconsin-Madison and CSIC)
"Distinguishing between interaction and dispersion effects in GxE analysis"

Alberto Palloni (University of Wisconsin-Madison and CSIC)
* ONLINE "Gene-Environment interactions and the case of BMI and obesity: how much do they matter?"

Alexandros Giannelis (University of Minnesota)
"Identifying a genetic factor of quantitative ability"

17:30-19:00

Keynote Melinda Mills
Sala Armi

20:00- 22:00

Dinner at Cantina Bentivoglio, Via Mascarella 4/B
Friday 20th May
Conference day 2
9:30-11:00

Parallel Session IV




Sala Armi Chair: Hans van Kippersluis

Dilnoza Muslimova (Erasmus University Rotterdam)
"The Power of the Pill: Evidence from Gene-environment Interactions in the UK Biobank"

Tobias Wolfram (University of Bielefeld)
"Man-Machine-Gene – Predicting life courses based on teacher assessments, short essays and the whole Genome"

Ruth Eva Jørgensen (University of Oslo)
"The Genetics of Partnership Dissolution"

Aula 12 Chair: Elisabetta De Cao

Sven Oskarsson (Uppsala University)
"Polygenic Indices for Health and Psychological Traits Predict Political Participation"

Emil Sorensen (Vrije Universiteit Amsterdam)
"The Long-Term Effects of Early-Life Pollution Exposure: Evidence from the London Smog"

Nicolai Vitt (University of Bristol)
"Early life exposure to measles and later-life outcomes: Evidence from the introduction of a vaccine"

11:00-11:30

Coffee break

11:30-13:00

Parallel Session V




Sala Armi Chair: Titus Galama

Rosa Cheesman (University of Oslo)
"How genes, schools, and residential areas shape achievement: a population-wide gene-environment interaction study"

Andries Marees (Vrije Universiteit Amsterdam)
"Sources of inequality at birth: the interplay between genes and parental socioeconomic status"

Silvia Barcellos (University of Southern California)
"The Effect of Education on the Relationship between Genetics, Early-Life Disadvantages, and Later-Life SES"

Aula 12 Chair: Perline Demange

Cecilia Potente (University of Zurich)
"Socio-economic Inequalities Characterize Molecular Risk for Aging in Young Adulthood"

Gaia Ghirardi (European University Institute)
"Is the effect of genes on education moderated by family's socioeconomic background?"

Kim Stienstra (Utrecht University)
"The Nature-Nurture of Academic Achievement at the Intersection between Gender, Family Background, and School Context"

13:00-14:30

Lunch/poster session II




Evelina Akimova (University of Oxford)
"The Genetics of Occupational Status: Implications for the Genetic Architecture of Socioeconomic Status"

Kaili Rimfeld (Royal Holloway University of London)
"Examining the associations between educational experiences and mental health from childhood to adolescence"

Michelle Spano (University of Bristol)
"Exploring shared genetic associations between risk behaviours and educational attainment"

Neil Davies (University of Bristol)
"Using Mendelian randomisation to adjust for covariates in observational and experimental studies"

Rafael Ahlskog (Uppsala University)
"Class, Genes and Rationality: A GxE Approach to Political Ideology"

Henrik Dobewall (Finnish Institute for Health and Welfare)
"Genetic risk for mental health disorders – the moderating role of parental resources"

Olivia Grant (University of Essex)
"Characterising sex differences of autosomal DNA methylation in whole blood using the Illumina EPIC array"

14:30-16:00

Parallel Session VI




Aula 4 Chair: Niels Rietveld

Eric A.W. Slob (Erasmus University Rotterdam and University of Cambridge)
"The identification of mediating factors between genotypes and phenotypes using Genome-based Restricted Maximum Likelihood estimation"

Sjoerd van Alten (Vrije Universiteit Amsterdam)
"The effects of demographic-based selection bias on GWAS results in the UK Biobank"

Eleanor Sanderson (University of Bristol)
"Estimation of causal effects of a time-varying exposure at multiple time points through multivariable Mendelian randomization"

Aula 12 Chair: Rosa Cheesman

Sam Trejo (Princeton University)
"What Makes Us Unequal? Understanding Disagreement Regarding Genes and Social Inequality"

Neil Davies (University of Bristol)
"How to use genetic instruments to adjust for confounders in observational and IV estimation"

Abdel Abdellaoui (University of Amsterdam)
"Socio-Economic Status: a Social Construct with Genetic Consequences"

17:00-18:30

Keynote Adam Rutherford Stabat Mater Archiginnasio Piazza Galvani 1

18:30- 21:00

Drinks at Nubar, Via de' musei 6
Venue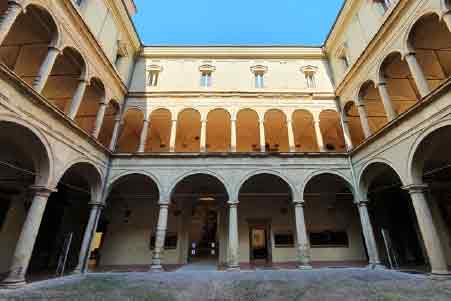 Palazzo Malvezzi
Via Zamboni 22
40126 Bologna – Italy
Travel information
Bologna
Bologna is considered one of the most marvellous and singular italian cities, famous for its uninterrupted roads, endless colonnades "Portici" (about 40 km), tall medieval towers, dynamic cultural life and great cuisine. City of red brick, architectures, artistic masterpieces by famous Italian artists, it seems a big open-air museum.
It enjoys a privileged geographical position in the heart of Italy between Florence, Venice, Milan and Rome, at a natural crossroad within both Italy and Europe.
Bologna has acquired many nicknames: the Learned, the Red, the Fat. Bologna "la dotta," (the Learned), because hosts the oldest Western world university, founded in 1088. "La rossa", (the Red), due to the terracotta red colour of the roofs of ancient medieval buildings. "La grassa", (the Fat), is a reference to its delicious gastronomic tradition represented with mortadella, tortellini, tagliatelle, lasagna and ragù (or Bolognese sauce).
Travelling to Bologna
Bologna is the capital of the Emilia-Romagna region, a key crossroad between Northern and Southern Italy. It is located between Florence (to the south) and Venice (to the north) and is easily accessible by plane, train or car.
By plane
Bologna closest airport is Guglielmo Marconi (Bologna) International Airport, just a few minutes from the city centre, served by:
taxi, from the airport to the centre it costs about €15-20 in about 10 minutes;
special bus line called the Aerobus (BLQ). Aerobus Ticket costs €6, it stops outside the main terminal building and goes to the Central Railway Station (some intermediate stops are available) in about 15 minutes. The ticket is also valid for 1 hour on the other buses in Bologna;
the newly available Marconi Express (People Mover) which is a dedicated, driverless monorail link connecting Bologna International Airport and Bologna Centrale Railway Station in 7 minutes, which costs €8.7. Ryanair flies to Bologna Gugliemo Marconi, serving several European cities. British Airways and Turkish Airlines have two or three flights per day (depending on season) to/from London Heathrow and to/from Istanbul Ataturk respectively. Marconi Airport also has other numerous international connections available by nonstop flights. https://www.bologna-airport.it/en/
By train
Due to its central location and geography, Bologna has emerged as a main rail transport hub of Northern Italy, making it extremely well connected with other major Italian cities. The high-speed train to/from Milan takes only 69 minutes. In the same way, Bologna is 37 minutes from Florence, 1.5 hours from Venice, 2 hours from Rome and Turin. Prices for the high-speed train (Freccia Rossa) are much lower if you book online in advance. There are also two direct train connections to Munich per day (duration of about 6 hours 30 minutes). https://www.trenitalia.com/en.html
Hotel suggestions
International Hotel https://www.hotelinternazionalebologna.com/en/ or the Star Hotel https://www.starhotels.com/en/our-hotels/excelsior-bologna/
---
Organisers:
Emilia Del Bono, Director of MiSoC, University of Essex
Nicola Barban, University of Bologna, & Pietro Biroli, University of Bologna
Please email any questions to essgnconf@gmail.com