Government urged to consider breastfeeding as social mobility measure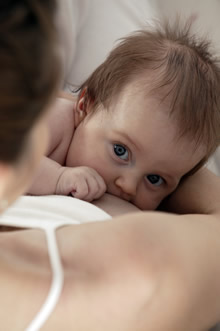 This week ISER researchers will tell an audience of policy makers, health practitioners and charities that their research indicates that the length of time a child is breastfeed has a positive and measurable impact on its health, cognition and behaviour.
The findings suggest that policy should focus on long term support for breastfeeding mothers to increase the numbers of babies that are exclusively breastfeed for up to six months. The team will also argue that initiation and duration of breastfeeding should be included as a measure in the Government's social mobility strategy, which is currently in its consultation phase.
A special event at the British Academy on Wednesday will be chaired by Dr Miriam Stoppard, one of the UK's best known health and childcare experts. The keynote speaker is Daniel Poulter MP, a practising doctor and chair of the All Party Group on Maternity. Dr Poulter will explore the successful increase in breastfeeding initiation rates across the UK over the last decade, and what changes in the Health and Social Care Bill could mean for breastfeeding support going forward.
Four ISER researchers will be presenting their research findings:
Dr Emilia Del Bono, principal investigator of an ESRC-funded research project into breastfeeding and its impact on children, mother's and employers, will present findings on the Baby Friendly Initiative and how it has helped to increase breastfeeding initiation rates among those mothers least likely to breastfeed their children
Professor Amanda Sacker will show findings that suggest that breastfeeding can protect against infections in infants that might lead to hospitalisation (i.e. diarrhoea and lower respiratory tract infections
Professor Yvonne Kelly will present results from a project that explores whether there is a link between breastfeeding and parent-reported socio-emotional difficulties in 5 year olds
Dr Maria Iacovou will explore findings on breastfeeding and cognitive development and will conclude by explaining the problems inherent in looking for a causal link between breastfeeding and later life outcomes
The presentations will be followed by a panel discussion involving Dr Emilia Del Bono, Belinda Phipps, CEO of the National Childbirth Trust, Janet Fyle Professional Policy Advisor for the Royal College of Midwives and Alison Baum, CEO of Best Beginnings.
---